16.25 / TCM
'Letter to three wives'
A Letter to Three Wives. United States, 1949 (103 minutes). Director: Joseph L. Mankiewicz. Performers: Jeanne Crain, Linda Darnell, Ann Sothern, Kirk Douglas.
The teacher Mankiewicz delivers an acid X-ray of the North American bourgeoisie, trapped in a web of well-being that hides selfishness, arrogance and half-truths. Three exemplary wives receive a letter from a fourth woman, whose face is hidden from the viewer at all times, announcing her immediate escape with the husband of one of them. Along with the intrigue of the identity of the subject, Mankiewicz creates a dense network of dramatic situations that surrounds characters who feel their personal security cracking, while the film becomes a subtle metaphor for the only apparent emotional integrity of the middle classes.
18.25 / Movistar Action
'Drag Me to Hell'
USA, 2009 (100 minutes). Director: Sam Raimi. Performers: Alison Lohman, Justin Long, Lorna Raver, Dileep Lao.
Sam Raimi returns to the horror genre, a terrain that, with the exception of the notable Premonition, did not address from the legendary diptych that formed Infernal possession and Terrifyingly dead. Always personal, Raimi makes a hectic and rowdy film, in which an old woman unleashes sorrows and terrors for a bank employee who denies her a mortgage forgiveness. From its first minutes, in which an extensive sequence shines that shows a wild and exhilarating fight inside a car, the film accumulates visual discoveries and funny adventures.
21.30 / Movistar Cine Ñ
'Intact'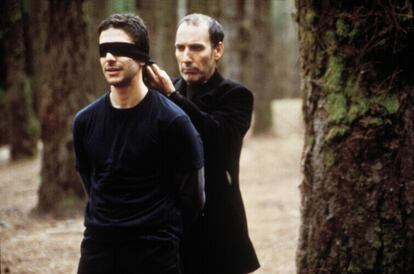 Spain, 2001 (102 minutes). Director: Juan Carlos Fresnadillo. Performers: Leonardo Sbaraglia, Max von Sydow, Eusebio Poncela, Mónica López.
Juan Carlos Fresnadillo's first film, after succeeding with his short Handcuffed, Oscar nomination included, is a thriller that threads a sordid plot around a group of subjects who have the gift of dominating fortune. Fresnadillo narrates with remarkable precision and creates images that are as firm as they are disturbing.
22.10 / AMC
'Django unchained'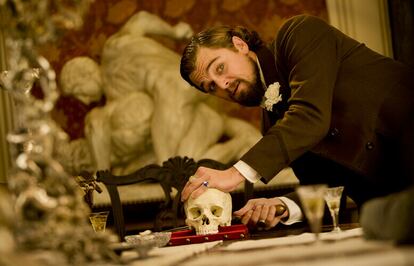 Django Unchained. USA, 2012 (165 minutes). Director: Quentin Tarantino. Performers: Jamie Foxx, Christoph Waltz, Leonardo DiCaprio.
It was a matter of time before Quentin Tarantino fixed his gaze on the spaghetti western. True to his disposition as a predator of filmic references, he proposes a vision of the West that is as tongue-in-cheek as it is joking, which partly eliminates dramatic rigor, an always secondary issue for the filmmaker. Tarantino shows his ability to handle the rhythm of the dialogues and flaunts a staging of indisputable power, marked, yes, by his love for visual excess.
22.30 / The Sixth
Double date with the adventures of 'The Flash'
The fastest superhero on the planet faces new adventures in the two espiodios of the series tonight The Flash. To begin, Barry, Wells, and Cisco will travel to Earth-2 to rescue the former's daughter, who has been kidnapped by Zoom. Next, Caitlin must rush to hone Speed-9, help needed for Jay to stop Geomancer.
22.30 / Odyssey
A memento of Lady Di's legacy
This year, Princess Diana of Wales would have turned 60. The documentary Diana: beyond the Crown remembers his figure and gathers the testimonies of his sons, princes Harry and William; Kate, the Duchess of Cambridge; Meghan, the Duchess of Sussex, and even her former butler, Paul Burrell, and Andrew Morton, her biographer. Diana of Wales is still an icon for thousands of people and still represents a spirit of rebellion that put the British monarchy in check.
22.40 / Atreseries
New installments of the French series 'Tandem'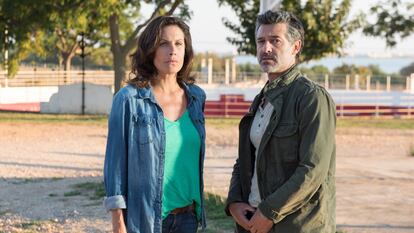 New challenges arrive for Captain Marchal and Commander Soler in the new season of Tandem. This French production focuses on a pair of researchers with opposite characters, who have to add a peculiarity to their work together: they are married and are getting divorced, so that, in addition to solving the pertinent cases, they will have to deal with their conflicts personal and must continue to educate their two adolescent children.
22.45 / Antenna 3
The drama continues in the series 'Innocents'
The plots of the Turkish series Innocent they accumulate conflicts. In this episode, to Memduh and İnci's surprise, Han asks İnci's father for permission to marry. Thinking that Uygar will cause trouble again, Han will act with more determination and, as a result, Esra will see Han's "dark side" … Meanwhile, Gülben will decide to take action in the face of his love for Esat. The biggest obstacle he faces is Safiye and, for the first time, the two sisters will get into a serious argument with each other.
23.30 / COSMO
'Calle Cloverfield 10'
10 Cloverfield Lane. USA, 2016 (103 minutes). Director: Dan Trachtenberg. Performers: Mary Elizaberth Winstead, John Goodman, John Gallager Jr.
After having suffered a car accident, a young woman awakens in a room built underground with a man who claims to have saved her from the end of the world. This is the disturbing starting point of a work that functions as a horror film and also as an allegory of the paranoia of a fearful and alienated society. From the same credits, the film masterfully plays with image and sound, offers an exemplary use of ellipsis and extracts anguish and unease from each image, from each frame.
23.50 / Hollywood
'Erin Brockovich'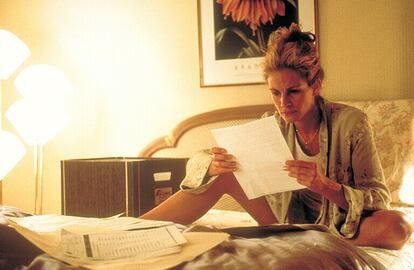 United States, 1999 (131 minutes). Director: Steven Soderbergh. Performers: Julia Roberts, Albert Finney, Aaron Eckhart.
In the year 2000, Steven Soderbergh delivered two simultaneous films and achieved enormous success with a double Oscar nomination for best director: the extraordinary Traffic, and this other work, somewhat more accommodating, but firm, solid, which investigates the real story of a woman, modest but combative, faced with a large company whom she brings to court as responsible for having contaminated the waters of a village.
You can follow EL PAÍS TELEVISIÓN on Twitter or sign up here to receive our weekly newsletter.
Many Thanks To The following Website For This Valuable Content.
What to watch on TV today? Tuesday, August 31, 2021 | TV