Story"Treasures of the Museum" (6/6). This South African equine disappeared with the arrival of the settlers, worried to see him compete for food with cattle. Biologists are now seeking to reproduce its phenotype to recreate the species. It remains to be seen what this would be used for …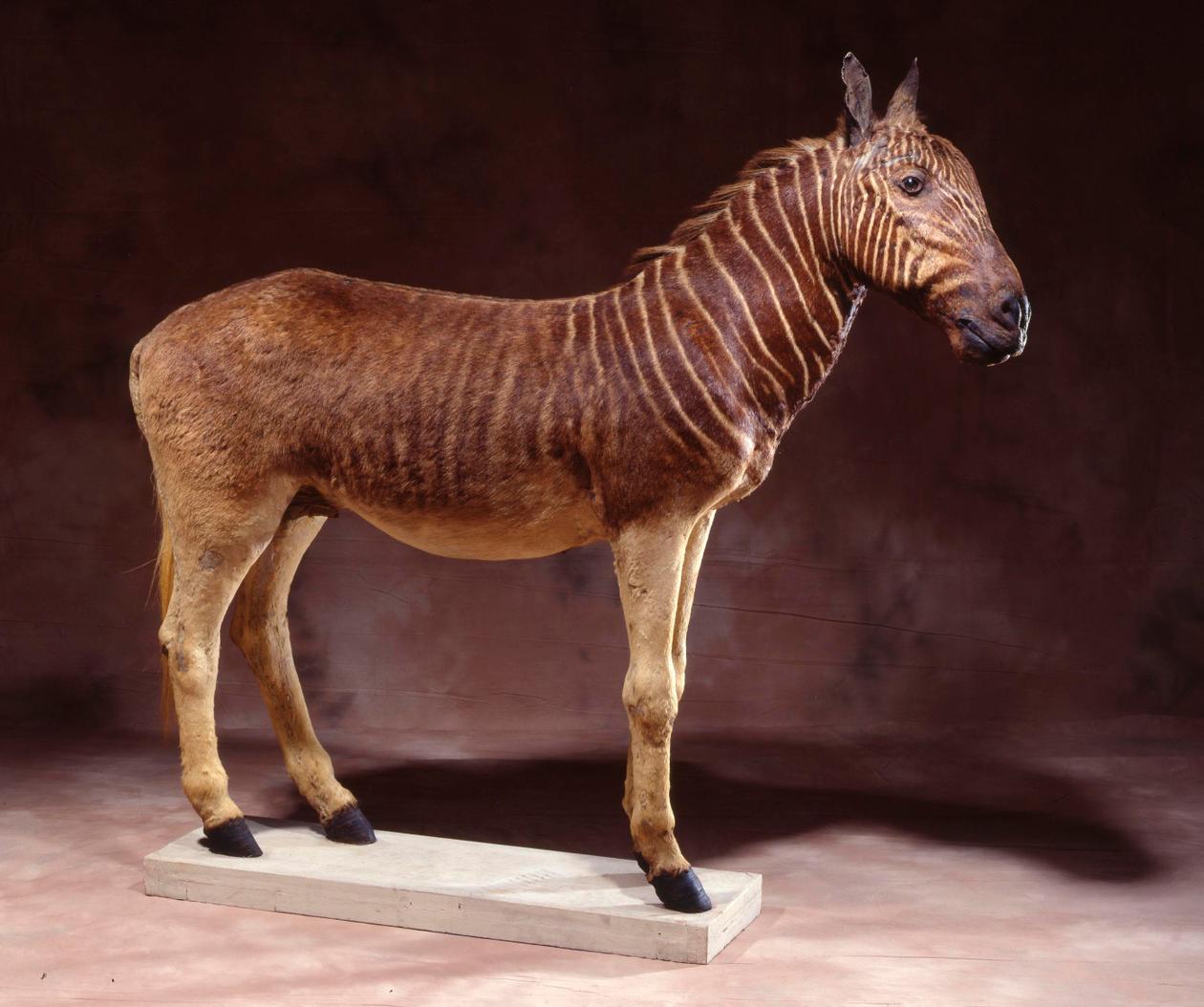 Since the beginning of the summer, at the National Museum of Natural History (MNHN), strange visitors of two kinds have been moving around in one of the rooms of the Grande Galerie de l'Evolution. The first, humans, with virtual reality glasses on their noses, set off to meet the second, animals from the past. Here, a Steller's rhytine, a sort of huge 8-meter-long manatee massacred in the 18th century.e century, swims in the air as if space were full of water. There, a saber-toothed tiger that emerged from prehistoric times is indifferent to the crowd. Further on, a dodo seems almost surprised to walk in peace among these Homo sapiens who eradicated it.
It is no coincidence that this new MNHN event, entitled "Revivre", is being held in the Gallery of threatened or extinct species: all its stars are now extinct. He has also passed from life to death, the couagga does not need virtual reality to remember our fond memories. It is there, in the window, between the orangutan and the California condor – two endangered species -, on its four hooves, one meter thirty at the withers, neither in flesh nor in bone since only its outer envelope remains in this specimen. taxidermized.
Funny zebra is this couagga who has lost half of his fine stripes, absent from his rear, and instead wears a brown dress. "It was a population of South African equines, quite large before the arrival of European settlers, says Jacques Cuisin, delegate for conservation and restoration at the Museum. It was hunted a little for its flesh and its skin but this is not the dominant reason for its disappearance: in the great grassy plains where it used to feed, it competed with the cattle. We will accuse it of consuming resources and offer bounties for its destruction. " Not very shy, it makes easy prey. The last specimen died in an Amsterdam zoo in 1883.
"In France, Louis XIV created a menagerie ex nihilo and will use it as a diplomatic and political tool: he can show that he receives gifts from the great of this world and in fact to them", explains Jacques Cuisin, of the Museum.
The one who sits in Paris has a prestigious history. It is nothing less than the "Louis XVI couagga", according to the description of the Museum. Gift made to the monarch by a captain of the French East India Company, he landed in 1784 at the Royal Menagerie of Versailles.
You have 77.54% of this article left to read. The rest is for subscribers only.
We want to say thanks to the author of this post for this incredible web content

Louis XVI's couagga, a funny zebra