At least fifty people have died in Kentucky as a result of a tornado, said U.S. state governor Andrew Beshear on Saturday (December 11). "I'm afraid there are more than 50 dead in Kentucky (…), we are probably closer to 70 to 100 dead, it's awful ", he said at a press conference.
"Last night Western Kentucky suffered some of the worst tornado damage we've ever seen, and we urge everyone to stay in a safe place.", indicated the governor, who announced "Having declared a state of emergency". The collapsed roof of a candle-making factory "Made countless victims" in the town of Mayfield, he explained.
Last night Western Kentucky experienced some of the worst tornado damage we've seen, and we are urging everyone to… https://t.co/xV217e4GK7
The storm claimed victims and damaged several states in the southeast and south-central United States on Friday.
On Saturday, in Illinois, Amazon employees were trapped in a warehouse ravaged by a storm the day before. The Collinsville Emergency Management Agency referred to "Many people trapped in the Amazon warehouse" of Edwardsville, with local media reporting about 100 people still inside.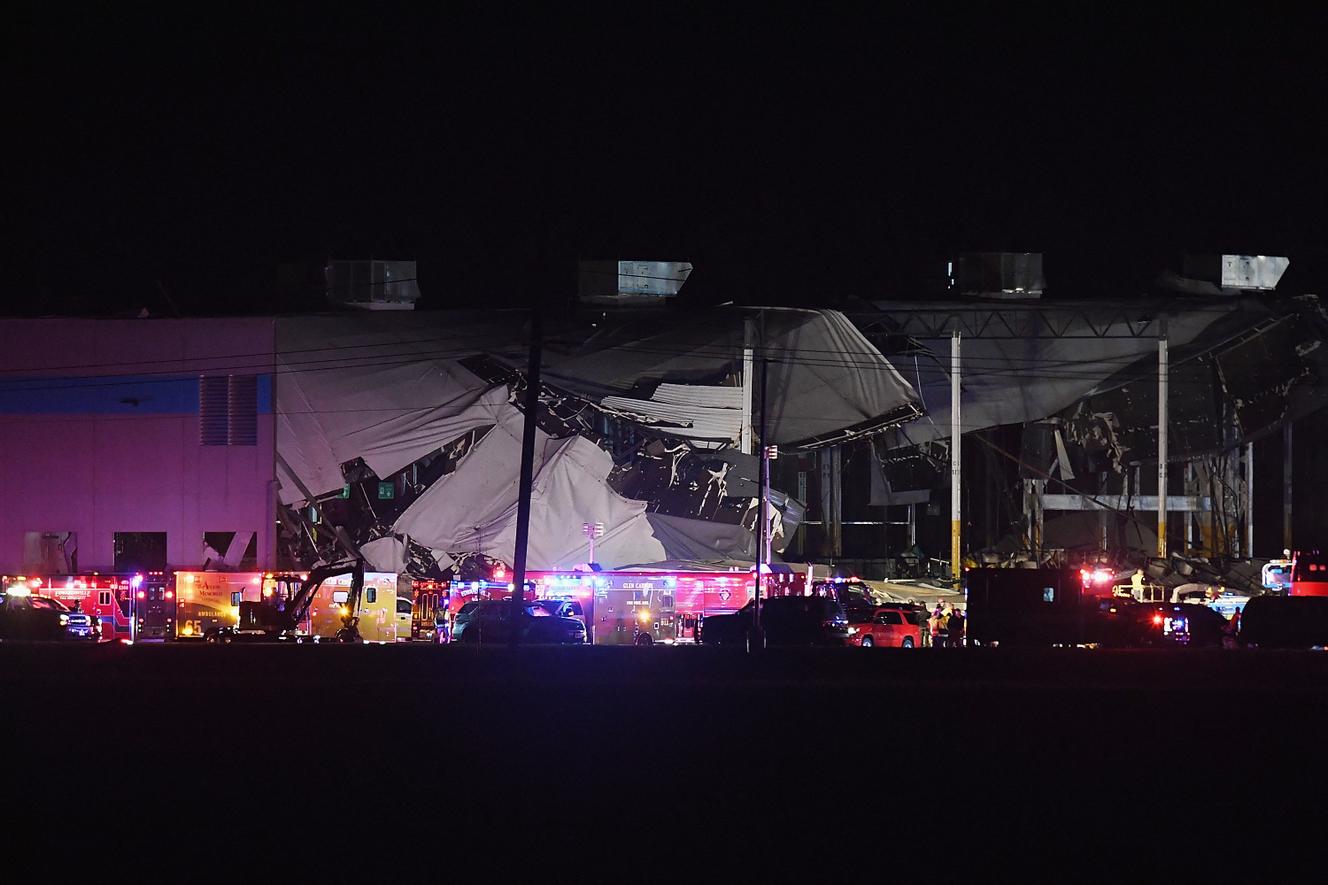 The emergency services worked until the early hours on Saturday to try to clear from the installation, a third of which is nothing more than rubble, these people who worked at night to process orders before the Christmas holidays. No assessment of possible victims was put forward.
Images from the warehouse, shared by US news channels and social media, show much of the installation's roof torn off, one of the walls collapsed in the building and rubble strewn across the site.
Three dead in Arkansas and Tennessee
Illinois Governor Jay Robert Pritzker said he was addressing his "Prayers to the people of Edwardsville" pointing out that the Illinois Police and Emergency Management Agency were coordinating "Closely their actions with local officials".
In a statement to local media, Richard Rocha, spokesperson for Amazon, claimed that "Security and well-being" of Amazon employees and partners were the "Top priority" of the group. "We are assessing the situation and will share additional information as soon as it becomes available", he added.
In the state of Arkansas, one person was killed and twenty were trapped in a nursing home, according to media reports. But rescuers managed to evacuate the trapped people from the building whose structure was "Practically destroyed"Craighead County official Marvin Day told local news stations.
In Tennessee, at least two people were killed in incidents related to the storm, according to an emergency management official quoted by local media.
We wish to thank the author of this write-up for this awesome content

Kentucky tornado kills at least fifty in U.S. state governor